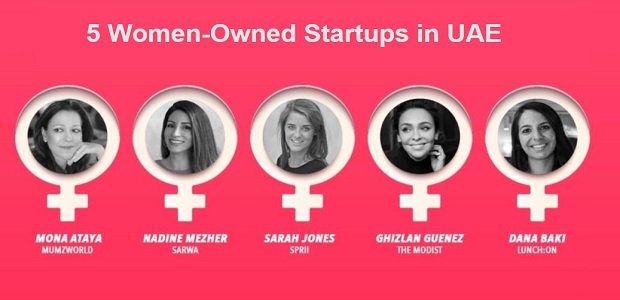 The world is evolving. Progressive ways of living are replacing fast the old and obsolete conventions. Most of us have realized the need for equality and started giving the credit to the other half of the world population that they deserve. The resulting growth of high-spirited women of today is no wonder but long due that is happening now when a supportive environment is created and they got encouragement to move forward, leaving the past behind, and achieve something big.
That encouragement growing across the world has also passed through the Emirati women who are making the name and gaining fame for themselves, not only in UAE but all around the globe. But a few of them have made it a breakthrough and become an inspiration for others to never hesitate to follow their dreams. Their mention is important here because maybe you too are waiting for someone or something motivational to feel and get yourself driven.
 1. Mona Ataya
 Mumzworld.com | eCommerce (dedicated to Mothercare needs)
SME Leader of Year, 2018 | SME Executive of Year, 2013 | 100 Most Powerful Arabs 2018 
Being a proud mother, her vision towards todays' Mothercare needs drove her to set up an online portal based out on mothers and children's essentials at present. Consequently, Arab women have ease of access now through an online store to get all things needed fast and at affordable prices, even at the comfort of their homes and with a few clicks on their smart devices.
2. Nadine Mezher 
Sarwa | Online Global Investing Platform
Co-founder & CEO
Despite not gaining adequate funding, she bootstrapped her startup and made through success in the investment world by smartly utilizing operating income. Now, she is doing well and encouraging Emirati women to learn the art of investment that they have not been much familiar with. With Sarwa, she is availing everyone including the Arab women invest smartly even their low income to make it profit them big later.
3. Sarah Jones  
Sprii | eCommerce (online retail platform for mums and kids)
Founder
From eCommerce to leading e-Marketplace for all things mums and kids, she is enabling the women in Arab by providing them a strong platform having the potential to help them grow and thrive. The platform has evolved now to list over 300,000 versatile mother and child care products to fulfill the needs of old and new mothers all along. The growing popularity of her eStore helped her manage to gain the spot in the top 10 fundings of 2019. Gain benefit from the Sprii coupon code available on SavingMea. Start shopping now!
4. Ghizlan Guenez  
The Modist | eCommerce (online women fashion marketplace)
Founder & CEO
Working as a professional for almost a decade, she developed a better understanding of today's working women's dressing needs. Her online platform turned out to be her brainchild in 2017 that backed her motive and offered a demure fashion way to women of all regions and religions. Unfortunately, the eStore is shut now after gaining popularity still encourages Arab women to stand out and do extraordinary.
5. Dana Baki
Munch: ON | e-Marketplace (a food startup)
Co-founder & COO
Making UAE delicacies easily accessible to all across the region, the leading lady of the food startup is helping everyone have their taste at the comfort of their place and within a few clicks, that too at an affordable cost. Her initiative is a buzzword of the town now and gaining good business.
So, take inspiration from the current leading ladies of UAE and direct your efforts towards success by helping people by adopting a unique yet simplified way.